Buying the Book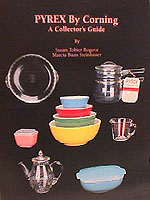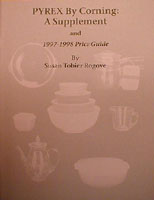 A lot of people have contacted me about buying the book mentioned on the website. I'm not a business, so I don't have any for sale. It is, however, an excellent book, and I recommend it highly. There is also a supplement, with a few more pictures and an updated price guide as of 1998.
ISBN for the book: 0-915410-94-X
ISBN for the supplement: 0-57080-029-4

Amazon.com lists it as out of print, but the amazon.com shops may have used or new ones. Go to amazon.com and do a search on books for "pyrex by corning".

Also, you might try looking on eBay Auctions or half.com (shops associated with eBay Auctions) for the book.

If all else fails, you could try contacting the publisher at:
The Glass Press, Inc.
dba Antique Publications
PO Box 553
Marietta, OH 45750
740-373-6146

Thanks to Marlene Rafferty for providing the publisher's information.


---